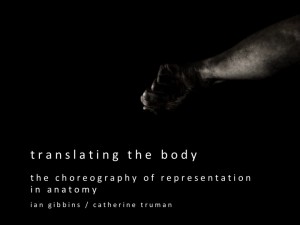 The musculoskeletal course for 2011 has just concluded. The students have completed their exams and the marking is almost done.  Ian and I are heading up to Brisbane today to present some of our research at the Elusive Obvious Symposium on Sunday, August 28th to a gathering of professionals from the fields of Feldenkrais, health, education ,sciences and the arts.

Here is the very beginning of our paper – background to my involvement with anatomy and a brief summary of our research observations.

Translating the Body: the choreography of representation in anatomy teaching.

Ian Gibbins & Catherine Truman
If I was to rename this presentation I'd entitle it Valuing the Invaluable and Honouring the Incidental because these words explain why I'm here in Brisbane as an artist who is trained in the Feldenkrais Method talking to you today with my friend Professor Ian Gibbins – a neuroscientist, anatomist and a poet, about the projects we have been working on together over the last few years.
Before we tell you about our work together- and today we'll be focusing, in particular, on a project undertaken during 2010, we'll fill you in on some background to provide a context:
Firstly I feel it's important to confess I am not an expert in Feldenkrais. I undertook the training in Perth from 1995-1999 but I have never run a dedicated Feldenkrais practise.
However I think I can demonstrate to this unusually broad audience gathered here that the influence that Feldenkrais has had on my practise as a fulltime artist and my approach to life in general has been extraordinary.
And so to some invaluable and incidental threads
In 1990, before my Feldenkrais training, when I first began to work across the disciplines of art and science, I remember working with a natural scientist in Darwin and asking him to tell me about the essence of his work and he answered:  I name things…if we name something, we know it exists. He was a taxonomist specialising in nudibranchs- soft-bodied, marine mollusks that have no shell.
At the time I remember being quite shocked. I was both repelled and compelled by his scientific attitude and I was hooked. Since then I have sought out opportunities to work across disciplines as often as I could.
To arrive at that place where you can language something (an experience) implies that a process has preceded it- a journey from one place to another and perhaps there's been a time of reflection.  In science to name something means its identity can be proven and re-proven.
And that leads me to the story of how I became involved in Feldenkrais in the first place and why I have developed such an avid interest in anatomy.
I've been an artist for over thirty years and the objects I make are primarily hand-carved and labour-intensive. I'm a contemporary jeweller and sculptor-  making objects for and about the human body has been a lifelong passion. In the first five years of full-time practise I experienced strain injuries that led me down some conventional medical paths that weren't very satisfying- probably because I wanted a succinct diagnosis and a clear-cut cure.
Eventually, though, I found a physiotherapist who was also a Feldenkrais practitioner who said simply: you need to look at how you are using your body in your work – such logical and sound advice. It required though, an enormous commitment and it was a complicated unravelling, but slowly I began to improve, and my work also grew in lots of exciting ways- both technically and conceptually.
I tried constantly to analyse how this thing called 'Feldenkrais' worked and couldn't ever language the process with any satisfaction.  But I was so curious; I decided to do the training.
During the training one of the other students offered to tutor some of us in anatomy.  In these sessions I felt like I was searching for an explanation for this 'new' body I was experiencing. Strangely though, despite the fact that the images and explanations were clearly explained, in studying them, I felt more and more dislocated and less embodied – this standard view of anatomy didn't fit my experience at all.
This was such a critical realization.
If the body represented in the textbooks wasn't me, who was it? Where did these images and texts come from? Who made them? Who decided these facts? How can I possibly embody this stuff?
I've been researching international historical anatomical collections for years now– studying collections of objects and illustrations that were made for the particular purpose of medical education and interested in the ways in which each of us filters the artistic and scientific content to form our individual understanding of human anatomy.
I do feel more located in my own body nowadays, but not as a result of studying these collections. I attribute the development of that ability to pay particular attention to my own body in many different contexts, as being something that was seeded in my Feldenkrais training.
This anomaly between the clinical anatomical body and the sensed body provides such fertile ground for art/science collaborations particularly in terms of how we approach this conundrum of embodiment and how we generate and gather knowledge of anatomy.
In the last few years I've also participated in a number of art and technology-based projects which have incorporated Feldenkrais- Reskin- a wearable technology lab at ANU and Thinking Through the Body–an ARTLAB project that centered on body-focused interactive art practices being the most notable. However time doesn't permit to me to discuss these this morning- but I am happy to expand on them during the break if anyone is interested.

And now to the history of our collaboration

Ian and I have been working together for about four years now.
We met in 2007 when we were both invited to present at a significant cross-disciplinary forum called With The Body In Mind at Flinders University in Adelaide and I think that the subject matter of our individual presentations are worth mentioning because they provide some more threads to understanding our current concerns.
My presentation for With the Body in Mind was centred on my research into a few of the collections of handmade anatomical models made in the 18th and 19th centuries. I was especially interested in the role of personal interpretation and hand-making skills involved in their creation and their use to educate us about the body.
Here's a little excerpt from that presentation:
This is a wax made by Clemente Susini for the La Specola Museum in Florence in the 1700's.
Art's writer, Peter Dormer wrote that: (It is) through the repeated acts of making, the use of specific technical skills, the gradual familiarity with a particular material, (that) over time, the hand comes to communicate directly with the mind at a semi-conscious level….If this is so, then we can surmise that the crafted object is imbued with the learned experiences of the maker- and when the subject matter is the human body –an object hand-made for the purpose of teaching anatomy, then there are some other very interesting layers at play.
I wonder what we can learn of ourselves through these objects hand-made by others in another century, in another culture – of our own bodies, and our shared humanity.
I wonder if their history is merely a source of alienation-
and what they actually communicate to us now
.……………………………………..
The presentation is two hours long . We are including the history of our collaborative work and summarising last years' Teaching and Learning innovation project. Ian will also demonstrate some of the neuroscience implicated in the students' modes of learning.
Here are a few of the observations we're presenting- this is by no means a comprehensive summary, as we have a long way to go in reviewing the data from this project as well as the new data freshly gathered in the last few months of this Synapse project, however it will provide an idea of our direction:
…finally some observations about how the students internalise the vast amounts of information:
rote learning is crucial- there are many facts to learn, however touch, language and movement play a major role in how the students embody this learning.
via observation and the video interviews we noted that each student has an entirely individual approach to their learning – each responding differently to specific forms of representation and using them in different combinations and sequences in order to most efficiently understand the subject matter
exploration through touch is central for understanding
touch encourages exploration and can provide the vehicle for understanding complicated and subtle detail about spatial relationships, volumes, densities, weights, pathways and function.
familiarity leads to embodiment of knowledge
explanation via gesture reinforces mutual learning.
And to sum up the instructors role-
the instructor is both a mediator and a catalyst via his actions, his movement around the classroom and his consistent presence.
the instructor provides the bridge between the representations in the room and an understanding that this material directly relates to the students' own bodies' -in real time and in everyday life.
We feel this direct experience and immediate access and focus is crucial in enhancing and accelerating the students' comprehension and ability to internalize the subject matter more effectively. Consequently Ian has been actively encouraging the second year medical students to use the practical anatomy classes more effectively- advocating a balance between rote learning and exploration of objects and self reference through touch. This approach is proving highly effective.
These observations are well supported by experimental neuroscience, which shows how the complex nature of embodied knowledge underlies much learning.